Key Control Systems
To provide the desired level of security, even the finest architectural hardware requires a properly designed and maintained master key system.
The keying system is the "software" of a building's security. The Saucedo Company carefully creates key control systems that are individually unique and offer the right balance of security, convenience, confidentiality and expansion capabilities.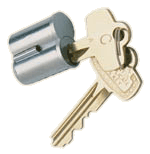 We highly recommend the Wink Haus VS System for the ultimate key control protection. We also carry MIWA, Kaba Peaks, Assa Abloy, Medeco, ESSCO, and Interchangeable Core.
Without Key Control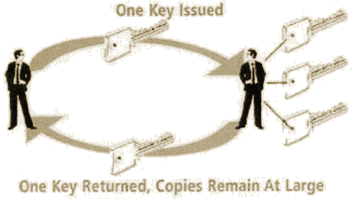 Without key control, regular keys can be easily copied at any hardware or discount store. Multiple keys often become unaccounted for overtime, which can allow an unscrupolous person to gain access, either directly or indirectly.
With Key Control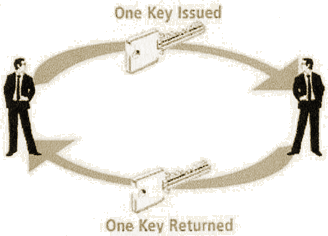 Patent protected key control systems such as WINK HAUS ensure that only designated people can duplicate a key, which effectively controls how many keys are issued to whom keys were originally distributed.
How Does Key Control Work?
The Saucedo Company issues a uniquely patented key control system that is tailored to the specific needs of the client. Once a patent is issued, the system dictates which keys will work in which doors. For instance, you may want to give all key holders the ability to unlock the front door, while only allowing the IT Manager to have access to the server room.
Key Control Policies for your Security and Protection:
All key records shall be kept current at all times and are considered high security and confidential
Records shall be securely stored
All transaction shall be recorded in a timely manner
Standardized forms shall be used for each transaction
All transactions shall be properly authorized by the authorized signer(s) registered at The Saucedo Company (If a non-authorized person attempts to make a transaction, the authorized signer(s) will be discreetly notified immediately.)